When one mentions Roussillon, some will think entirely in terms of sweet fortified wines, curiously known as "Vins Doux Naturels" in France. Without detracting from the often high quality of these, this southernmost wine region in France is both more diversified and more ancient in its wine production.
Who were the Sordes?
The Sordes were an ibero-celtic tribe that probably started producing wine in the region between Corbières and the Pyrenees some five centuries before Christ. The term Roussillon derives from their capital Ruscino, now part of the city of Perpignan. But it was the Romans in the 1st century BC who extended the town and its activities, particularly through the surrounding vineyards. Two main factors facilitated this: Ruscino was on the Via Domitia that linked Rome to the prosperous colony of Hispania, and the Roman Empire ensured both political stability and markets. Archaeological digs on the Petit Clos estate south of Perpignan have revealed wine-making equipment. According to those in charge: "wine consumed on this site came from various parts of the Roman Empire, showing that trade around the Mediterranean was both well organized and on a widespread scale. The large numbers and the variety of shapes of wine amphoras found are proof of this."  Two other towns appear to have played key roles in trade between this region and the rest of the Roman world: Elne (aka Pyrène), where the Emperor Constantine owned a villa and was to become the first diocese in this province, and Portis Veneris, known nowadays as Port-Vendres.
Arnaud de Villeneuve, Benoit XIII and Voltaire
Following centuries, and particularly the successive wars between Visigoths, Omeyyades, Aragon and France, not forgetting the Cathare episode, were far less propitious for wine and trade. Yet, in the 13th century, the expanding  kingdom of Aragon brought a period of relative stability and prosperity. This was the time when Arnaud de Villeneuve, a doctor trained in Montpellier and a part-time alchemist, who had extensively read Arab scholars who were then experts in distillation, theorized about the use of grape spirits and wine-based substances for medical and nutritional preparations. This learned man declared that he looked after himself with Muscat wines that made him 10 years younger! Legend has since turned him into the "inventor" of the fortification of wines, so giving birth to the local Vins Doux Naturels that are to be found in three zones: Rivesaltes, Maury et Banyuls.
As for the Templar knights, they are said to have installed the system that evacuates storm waters that are so crucial to hillside sites, particularly at Banyuls, but this is subject to dispute. What is certain, however, is that they possessed extensive vineyards in the Aspre region near Perpignan, as well as in Rivesaltes, and they also actively used Collioure as a port for exports. In any event, as from the 14th century, Muscats from Claira (a parish within Rivesaltes) were sufficiently reputed to be bought by the Pope Benoît XIII, who, it should be mentioned, came from Aragon. What we do not know (there are no bottles left!) is whether these were made from dried grapes or were fortified. A book called Llibre dels Secrets, by the Catalonian Miquel Agusti, written in 1617, gives us precious information on the local wines of the period and these were made from dried grapes. The father of French agronomy, Olivier de Serres, in his book Théâtre d'Agriculture, published in 1600, praises the virtues of sweet wines, particularly from the Muscat grape, calling them "wines for friends". He considered that such wines would give strength and courage to workers, ensuring that projects would be finished on time. 150 years later, a nephew of Voltaire called Mathieu de La Houlière, who was governor of the Salses fortress in the Roussillon, acquired vineyards in the area and began producing a wine that his uncle described as "the liqueur from Cap de Salses". In 1771 the philosopher ordered some and decided "to have a drink of it, even if one's feeble machine is unworthy of this liqueur". He even considered leaving his home in Ferney (near Geneva)  for the Roussillon and its "beautiful vineyards" and what he qualified as "the most pleasant of all climates".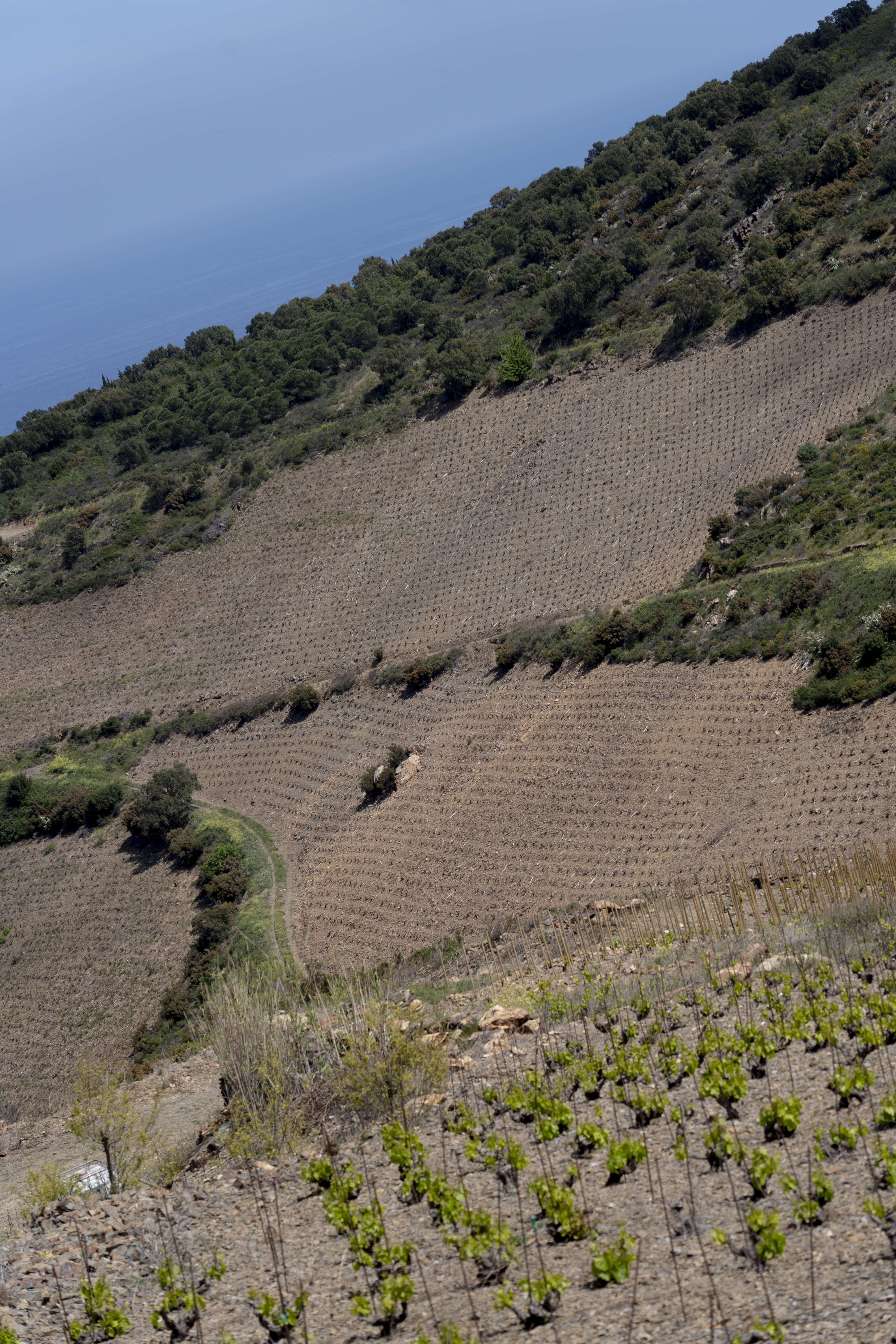 The first ampelographers
In 1858, Doctor Jules Guyot wrote that the vineyards of the Pyrénées-Orientales département (ie Roussillon) were far behind those of the Hérault or the Aude in terms of surface area, attributing this fact to "a more tormented terrain" and to often very poor soils. He also noted that wheat, olives and pastures were also competitors since farmers hesitated to put all their eggs in the same basket to ensure subsistence and revenues. All the same, this administrative area then counted 60,000 hectares of vines, compared with barely 20,000 today. Guyot also mentions the very low yields: 10 to 16 hectolitres per hectare from the hills, and 20 to 24 in the plains.
During the mid nineteenth century, leaving Muscat aside, the dominant variety for red wines was Grenache, with Carignan, Mataro (aka Mourvèdre) and Picpoul Noir following. Guyot pointed out that these varieties had replaced others that formerly produced wines of a lighter colour. One may surmise that, apart from the choice of these varieties, longer maceration times during vinification were a factor in this change of colour.
All the ampelographers of the 19th century agree about the quality of the wines, and not only the sweet versions, despite the fact that they wrote more about these. They underline the climatic advantages of the region which include not only generous sunshine, but also a "curative" wind that, by drying the air, limits the propagation of certain vine diseases. Even today, 9 out of 10 fortified wines in France come from this region.
Important political support
As from 1872 and Arago's law, the fortified wine category gained specific and favoured status, particularly with reduced taxes that gave them a competitive advantage. This law was promoted, not by the famous scholar François Arago who came from Estagel in the Roussillon, but by his son, the lawyer and senator Emmanuel Arago. It also set out the area authorized for production to prevent fraud in this respect. The official term Vin Doux Naturel (Natural Sweet Wine) came later in 1898 with Pams' law. A lawyer from Perpignan, Jules Pams became the Minister for Agriculture. He was also the owner, with his wife, of Château de Valmy near Argelès. The notion linking fortified wines with health, to some extent started by Arnaud de Villeneuve (even if the wines he mentions where not then fortified!) was also reinstated in 1884 by Docter Henri de la Fabrègue, who was himself a producer and his Rombeau estate. He managed to obtain that Vins Doux Naturels made from Grenache became, for a while at least, part of the national pharmaceutical codex as "medicinal wines". For many decades these Vins Doux Naturels would be a mainstay of Roussillon's economy, despite, as elsewhere, the economic slump around the end of the 19th century as a result of phylloxera and unfair competition from adulterated wines. In 1907 the producers of Baixas revolted against taxes and joined the wider movement to defend wine production in the South of France that took shape around Mercellin Albert's petition. On May 19th that year, more than 170,000 demonstrated in favour of "natural wine" (meaning unadulterated) and set fire to Perpignan's Prefecture.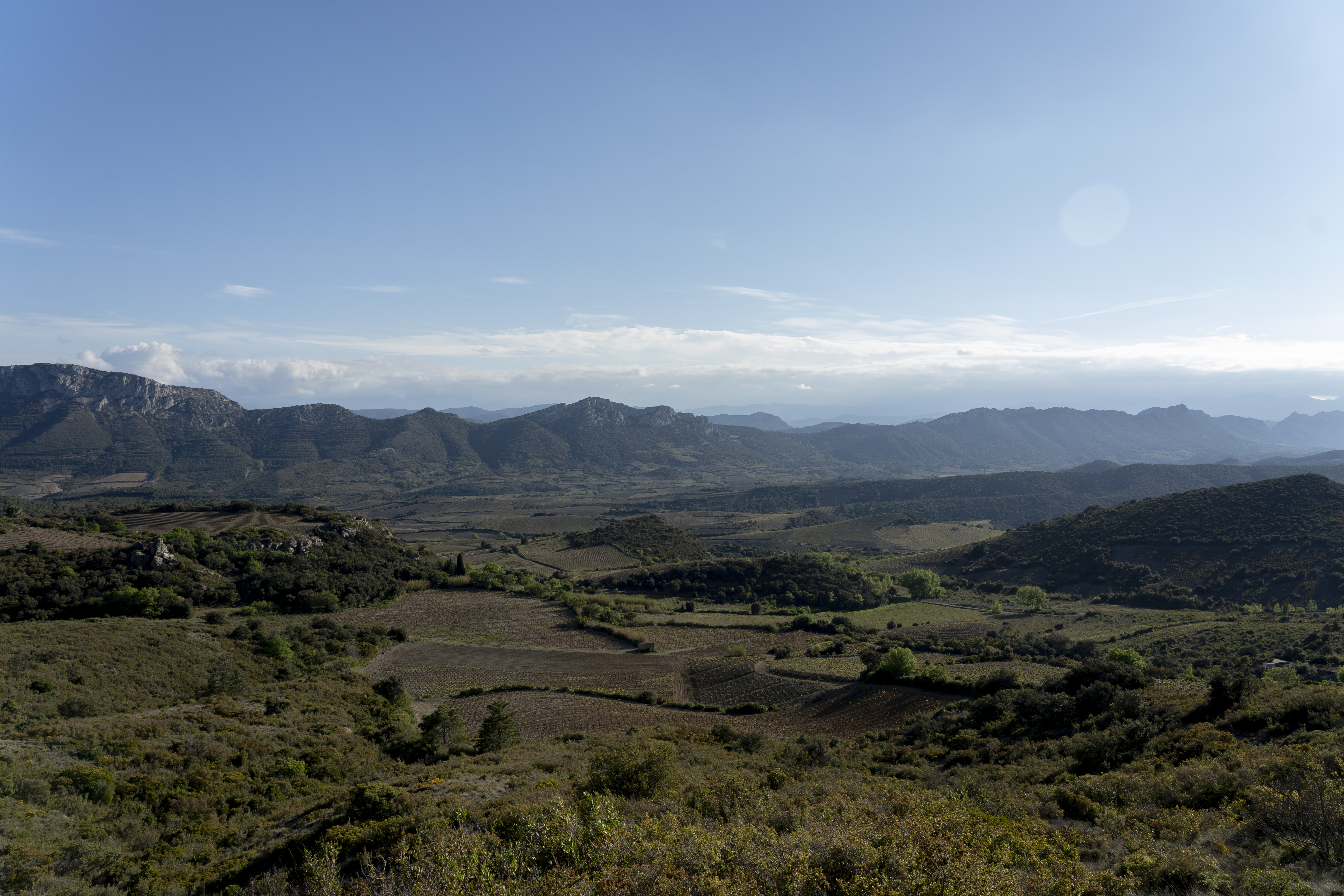 A glass of Muscat
Roussillon vinegrowers emerged from these difficult times largely through collective action. Cooperative wineries were very significant in the region from the beginning of the 20th century, and were particularly implicated in the field of Vin Doux Naturel, a type of wine that was in fashion until the 1960s. For example, a glass of Muscat became a standard aperitif drink, or even for a five-o'clock with a piece of cake. And this was not reserved for those with high revenues: a large proportion of French people regularly consumed these fortified sweet wines from the Roussillon, often under major brands such as Bartissol. Edmond Bartissol, also an engineer and member of parliament, even took bottles of his wine to the Assemblée Nationale. Two of the best-known zones for the production of these fortified wines, Banyuls and Maury, were amongst the first appellations to be officially recognized in France in 1936. Added to which Banyuls is the only appellation in the South of France to have a grand cru status amongst its various sub-categories: Banyuls Grand Cru.
The consecration of appellations and the rise of dry wines
The accession of other areas and types of production to AOP status came later and lasted several decades: 1956 for Muscat de Rivesaltes, 1972 for Rivesaltes, then, for dry wines, 1971 for Collioure (which shares the same area as Banyuls VDN), 1977 for Côtes-de-Roussillon and Côtes-de-Roussillon Villages. Before this latter date, all the dry wines from this northern sector of Roussillon merely had a VDQS status and the title of "Corbières-du-Roussillon".
The latest evolution in terms of the region's AOCs is that obtained in 2011 by Maury for dry wines as well as fortified ones. This is a clear sign of the rise of dry wines compared with sweet ones, which have lost ground in recent years not only in market terms, but also through producers moving towards dry wine production. The status of these dry wines has totally changed over the past twenty years. Winemakers from Roussillon have learnt to use their natural ressources, such as record levels of sunshine for France, drying winds that can drive people mad but help contain vine diseases, poor stony soils that flow down from the Corbières, Canigou and Albret mountains, to produce wines that enchant wine-lovers. A sign of this progress is that the most reputed of these dry wines now reach prices that one could hardly have imagined 20 years ago.  During the same period, total production has been halved and the vineyard area has shrunk. With modifications in the proportions of different grape varieties, the use of only the best plots, and significant reduction of yields, the choice of quality has clearly been made.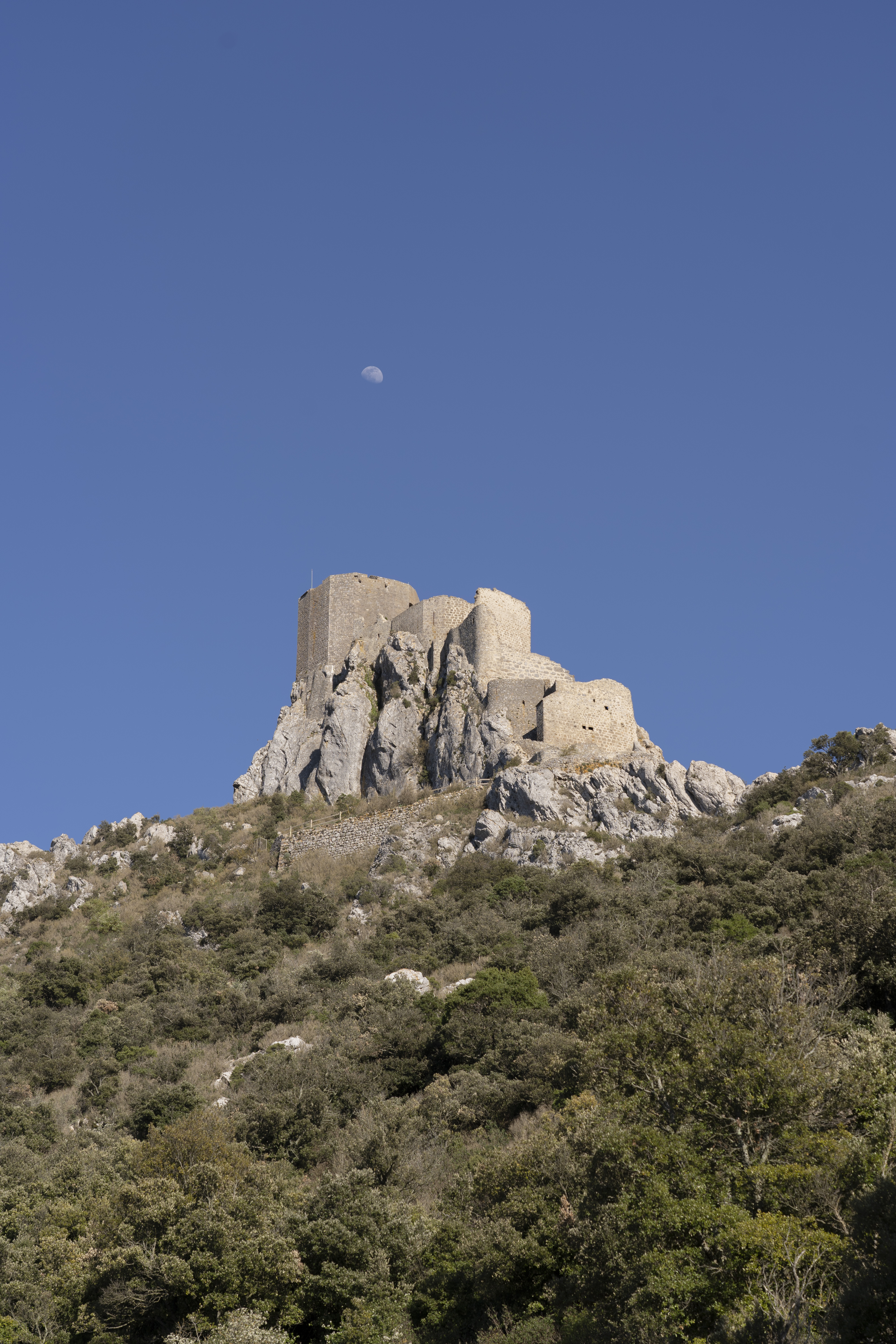 This move up-market has gone hand-in-hand with a more detailed exploration of the potential of different vineyard sites and how to differentiate them. When the Côtes-du-Roussillon Villages appellation was put in place, people began considering how to favourise local zones or terroirs, and cooperative wineries were often very much involved. The first two specific villages to be mentioned on labels were Caramany and Latour-de-France, soon joined by Lesquerde and Tautaval, then, much later in 2015, by Les Aspres. These village names on labels are restricted to red wines.
Finally, we would like to mention the renaissance of dry rancio wines which undergo an oxidation process that often lends them an amber hue. Yet these wines, even if they correspond to the maturing process of some Vin Doux Naturels, do not fall into that category as they are dry. Their aromas of walnuts and cocoa beans can derive from red or white grapes. Although they do not have AOC status, most local producers historically make small quantities of these wines, mostly for home consumption. They can be sold however under the IGP Côtes Catalanes designation.
It should be noted that the latter designation, along with the slightly different one of IGP Pays Catalan, harbours numerous quality wines.  This change of official status happens because they use grapes that are not on the AOP lists, or at least not in the right proportions, or else because they are made by producers who prefer simply to opt out of the AOC system and its not-always-rational restrictions. This should in no way prevent us from finding them good or even excellent. As to personal preferences, these are up to you! The selection that follows should be seen as an invitation to discover or re-discover a region that has totally re-invented itself over the past twenty years.
Hervé Lalau
Photo credits: Aurélien Aumond