The twentieth edition of the Circulade en Terrasses du Larzac will be held on Friday June 30 or Saturday July 1 in Gignac. To celebrate this anniversary in style, Chef Cyril Attrazic, recently awarded two Michelin-stars, will sign the menu.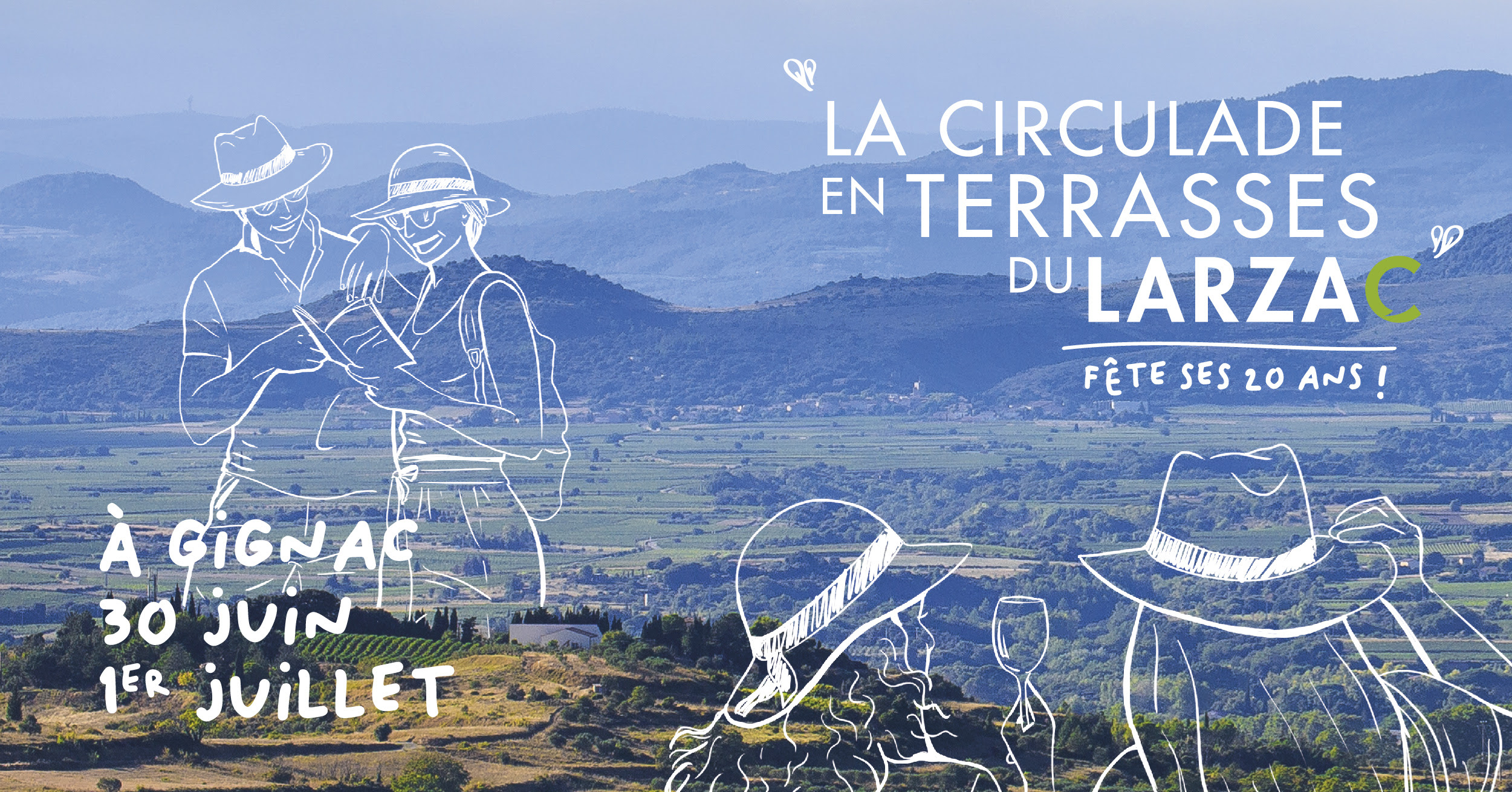 No fewer than 56 winegrowers from all over the Terrasses du Larzac appellation will be on hand along the route to share and taste their wines!
Castelbarry, Château Capion, Château la Sauvageonne, Château Saint Jean d'Aumières, Clos Aguilem, Clos de la Barthassade, Domaine  L'Aiguelière, Domaine Caujolle-Gazet, Domaine Coulet, Domaine d'Anglas, Domaine d'Archimbaud, Domaine de Brunet, Domaine de Ferrussac, Domaine de l'Accent, Domaine de l'Argenteille, Domaine de La Réserve d'O, Domaine de Montcalmès, Domaine de Rieussec, Domaine du Causse d'Arboras, Domaine du Pas de l'Escalette, Domaine L'Hermas, Domaine La Croix Chaptal, Domaine la Rouquette, Domaine Les Caizergues, ,Domaine Nova Solis, Domaine Terre de Feu, Domaine Virgile Joly, Fonjoya, La Jasse Castel, Le Chemin (Si Vis Pacem Para Vinum), Le Clos des Combals, Le Clos du Lucquier, Le Clos du Serres, Le Clos Rivieral, Le Clos Rouge, Les 8 Sarments, Les Chemins de Carabote, Les Vignes Oubliées, Mas Cal Demoura, Mas Combarèla, Mas Conscience, Mas d'Agamas, Mas de Capdaniel, Mas de Clanny, Mas de la Séranne, Mas des Arômes, Mas des Brousses, Mas des Chimères, Mas des Quernes, Mas du Pountil, Mas Fabregous, Mas Lasta, Mas Laval, Mas Origine, Terre des 2 Sources, Trois Terres.
Price: 60 to 80 euros
Booking ICI